River is correct. This post contains spoilers. Read after the jump at your own risk.
Season 5 of ABC's
Castle
ends with Castle proposing to Beckett. (See? Told you. Spoilers.) And this makes me angry. Why it makes me so angry can really be boiled down to how the network is promoting this season cliffhanger. The show's official Facebook account made the following post on May 15:
"
#Job or #Ring? What does she choose?"
Excuse me, but why does she have to choose between her career and a romantic relationship? This is Feminism 101, people. Nonetheless, I'm still frothing at the mouth and feel the need to break this down via bullet points.
The distance between NYC and Washington, D.C. is approximately four hours.

Beckett's possible new job would be in D.C., not across the country or overseas. That's four hours (approx.) driving, too. Which brings me to the next bullet point.

Richard Castle is a millionaire!

He's an award-winning, million-dollar-making author.

He can charter a plane to D.C. to see Beckett.

He can write his novels from anywhere in the world if he wanted to. Hell, he could pick up and move to D.C. and not even have to fold and pack his own undies because he can afford to pay people to do that for him.

Feminism 101!!!

Women should not and do not have to "choose" between a career and romantic relationship. To imply so (or even come right out and say so as the network has) is offensive to women who have already earned the right to vote, so, y'know, ALL of us. Life is not a binary of "work" or "love," especially not for women. We can have and should have and demand to have both. Why should she have to choose? Why can't he "choose" if choosing must be done?? Which brings me to the next part of this rant, no bullet points needed.
Castle's proposal was a very selfish, ill-timed, last-minute gamble/knee-jerk reaction. It was one of the worst television proposals ever as he still seemed angry from their fight. Who goes from a fight into proposing? Desperate people, that's whom. I didn't find it romantic in the least (though it was rather surprising). It puts Beckett in a very unfair position, throwing yet another major, life-changing decision into the mix when she's already dealing with the first one (job change).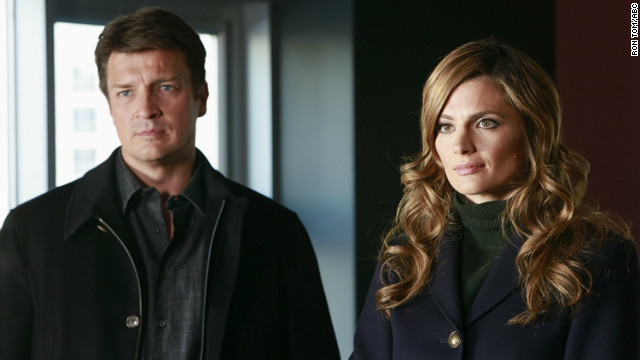 I realize that Beckett changing jobs would mean Castle doesn't get to play cop anymore (even if he does move to D.C. with her). But seeing as he's not an actual member of the police department, it seems a rather selfish reason to keep her in the NYC. Yes, I know it's the premise the show is built on (as I've watched every single episode from day one), but he doesn't have to be tagging along ALL of the time, not after five whole years of it, not if this is where their relationship is heading. Just because the show has primarily been from his point of view from the beginning (although that's certainly changed -- though not entirely balanced out -- in the past couple of seasons), doesn't mean you have to turn him into a selfish bastard.
I really,
really
hope that ABC finds a unique and unexpected way out of this quandary. I'll be greatly disappointed in one of my favorite TV shows if they don't, for all of the reasons listed above. C'mon,
Castle
writers! You're better than this. Please don't turn Castle and Beckett's relationship into a 1980s second wave feminism
cliché.