Two words: Epic Failure.
I'm not exactly sure why I put this adorable, gorgeous film on the list as having passed
the Bechdel Test
. It was still wrapped in cellophane, meaning I hadn't watched it (my copy) since I rented it from Netflix who knows how many years ago. I think perhaps my logic was "Miss Pettigrew and Amy Adams must talk about her schedule, etc." And they do, kind of.
Sadly, 90% of the movie is
Miss Pettigrew
and
Amy Adams
and
Moaning Myrtle
discussing the men in their lives and which man would be a better fit to get them what they want. In other words: a complete and abject failure of the Bechdel Test.
As I said, the film itself is beautiful, full of early 1940s glamor and fashion. The comedy is right on as well -- wonderful timing of the farce variety with some physicality that reminds me of Blake Edwards' direction of
Victor Victoria
. Amy Adams is adorable (as usual), and Frances McDormand quietly steals the film and fills you with warm fuzzies. If you watch
Game of Thrones
, you might re
cognize Ciarán Hinds, although he looks a bit different in this piece. The film is, of course, based on the 1938 novel of the same title by Winnifred Watson (what a great name!) that I now have to read.
Abject failure aside, here are some pretty pictures:
Amy Adams stop being adorable!
(Photo courtesy of DVDBeaver.com. I couldn't make up that website name if I tried.)


Even in distress she is still adorable and glamorous.
Look at that flat!
LOOK AT IT.
(Photo courtesy of NicksGotChalk.com -- who is coming up with these names??)
And, of course, Frances McDormand.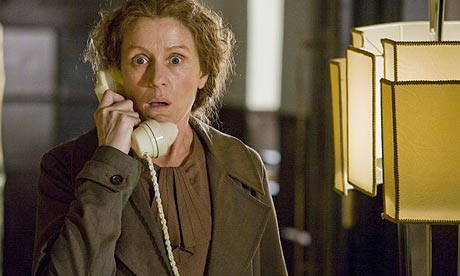 Looks rather frumpy, doesn't she? She does get a makeover during the film, but that's not important. What's important and what this picture (courtesy of
The Guardian
) doesn't show is her impeccable timing, comedy, and brilliant facial expressions. Do yourself a favor and watch this film to see how farce is done (
without
mugging).
On to the next Bechdel test candidate: Beetlejuice.